Winter Break is around the corner, and we're excited to relax and have some fun! Whether you're looking for something to do as a group, head out with friends, or just get out of the house for a bit, we've included something fun for everyone! Check it out below.
Happy Holidays!
xo, Kate
---
If by chance we see a white Christmas, check out our local sledding guide here!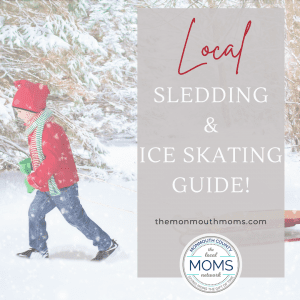 ---
  What's better than giving back to others in need during the holiday season? Include the kids and find ways to give back to those less fortunate. We put together a local volunteer page for you this holiday season where you can learn about various Monmouth County organizations dedicated to helping others. You can check it out here!
---
Take a Hike!
Need to get some fresh air and work off those Christmas cookies? It's cold out, but the Monmouth County Park System is still beautiful this time of year! There's SO many parks to take a small hike, go for a walk/run, or do some outdoor activities with the kids. One of our favorite places to go for a long walk is Manasquan Reservoir, it's incredibly scenic, and there's a five mile trail along the perimeter of the reservoir. Make sure you take pictures, it's really something!
Holmdel Park offers a paved trail, perfect for strollers, and for the older ones, a 3-mile fitness trail.
Thompson Park is a great spot for the whole family. They have a dog park, five mile paved trail perfect for running strollers, and a huge playground. We'll definitely be here over the holidays!
For a full list of over 138 miles of trails here in Monmouth County, click here!
---
  Monmouth Museum, located on the same campus as Brookdale Community College, is a hidden gem for the whole family! The Monmouth Museum, a Museum of Ideas, presents changing art, history and science exhibitions to educate and entertain while providing a destination for creative expression and life-long learning to the diverse community it serves. Each of the programs and exhibitions at the Museum is designed with the goal of increasing curiosity and learning. For children who visit with their families and schools, the Museum has developed strategies to make learning fun by employing hands-on, participatory activities which engage and focus young visitors. Check out their holiday train display too!
---
Shop & Eat Local
We LOVE supporting local, especially during these challenging times.
– Pick up last minute gifts or take the kids shopping over break. You'll find the perfect list of local businesses in our 2021 Holiday Gift Guide (click here!).
– Throw in the kitchen towel and order some takeout from local restaurants. There's TONS of delicious options all throughout Monmouth County. Check out our dining section for ideas in your area! You can find it here.
---
Monmouth County's own "metro-burb," an indoor space that spans the length of more than three footballs fields, is the perfect spot to bring the family and explore. You can take the kids for a long walk, visit the Holmdel Library, and check out the stores and lunch spots. Visit a virtual reality center, Oasis VRX, or get lost in Escapology. It's definitely a great place to break up the day and get out of the house!
---
Red Bank is one of our favorite spots to park the car around the holidays and just walk around. It's small enough to bring the little ones, and you don't have to walk miles to get anywhere, there's still plenty to do! Start by grabbing a coffee at Rook in town. The whole family always has a good time at Yestercades, where you can play vintage video games at hourly rates. Swing by Marine Park, do some shopping, and grab some lunch or dinner at Dublin House, Patrizia's, or Birravino.
---
Pier Village is a fun way to spend the afternoon! It's home to plenty of great restaurants like McCloone's Pier House, Sirena Ristorante, Stewart's Root Beer, Turning Point, Playa Bowls, Wine Loft, and lots more!  Take the kids on the carousel, do some shopping, go ice skating, and head to Boardwalk Fun and Games!
---
Head to iPlay America
  Ring in the New Year at New Jersey's family-friendliest celebration! Exciting rides! Boardwalk-style games! Laser tag! Go-Karts! Arcade, Great food and much, much more! Located in Freehold, NJ, there's fun in store for the whole family here!
---
Check out Local Breweries
 Have a babysitter for the evening? Visit or pick-up some beer and do a beer tasting from one of Monmouth County's amazing breweries! We've listed some below!
Source Farmhouse Brewery- Colts Neck, NJ
Alternate Ending Beer Co. – Aberdeen, NJ
Asbury Park Brewery – Asbury Park, NJ
Red Tank Brewing – Red Bank, NJ
Beach Haus Brewery – Belmar, NJ
Bradley Brew Project – Bradley Beach, NJ
Kane Brewing Company – Ocean, NJ
---
Nov. 19th – Jan. 2nd, 2022 Sunday – Thursday 5pm – 10 pm. Friday – Saturday 5pm – 11pm.
Tickets Required
---
The Historic Village at Allaire has tons to offer families in Monmouth County. Located in Farmingdale, NJ, Allaire was once an iron-producing, factory-town known as the Howell Iron Works, Co. The Village was a self-sufficient community containing a carpentry and pattern making shop, a blacksmith shop, a bakery, a boarding house, a blast furnace, mills to finish iron products, a school, a church, a general store with a post office, and workers' home. Today the Historic Village at Allaire is an interactive museum where visitors can experience history directly through hands-on activities.
---
  Winter is a beautiful time to bundle up and get out to explore your Monmouth County parks! Head to the parks with your children this winter and seek out the objects listed here. Find and check off 15 items on the list and fill out the form at the bottom and mail it to the address provided by March 15, 2022!
---
 Dubbed the "Jewel of the Jersey Shore," Spring Lake is by far the cutest beach town in Monmouth County! Stay at adorable B & B's, shop in their infamous shopping district, dine for lunch, or just take a stroll down the tree-lined, picturesque streets of this cozy beach town.
---
Head to the Movies
Bring the family to the movies. We've listed some of our favorite spots below!
---