Doing some updates to your home? We recently sat down with Ginny Padula, owner of Town & Country Design Center and The Mercantile in Red Bank, NJ, to discuss what's important to know when hiring an interior designer! Check out the full interview below.

You've worked to transform hundreds of homes in Monmouth County (and beyond!) into beautiful spaces for years. What are some things you would advise moms to keep in mind when they're interested in hiring an interior designer?
Know your budget!  Be realistic and honest about setting a budget as this is the most important part of the process.  Set a timeline so you know how much time you will need for your scope of work.  Research local designers via website and IG and talk to those who have your same design aesthetic.  Determine your design style or gather inspiration by saving images and ideas to review with your designer.  What services do you need?  Ask designers what services they offer to be sure they can provide what you need.
What are some design trends you see shifting this year?
Natural finishes, neutral paint colors, outdoor kitchens and dining spaces, dual purpose spaces; home offices – guest room w/ desk, dining room w/wine storage bookshelves or built-in cabinetry.  Vintage accents – Vintage-patina brings warmth and texture to a space.  Re-purposing old items to reduce your footprint while adding warmth to a space.
Monmouth County is such a beautiful area to live in. Where do you find inspiration in our area for your work?
We are lucky to be surrounded by nature- parks, gardens, water in Monmouth Country.  There is so much inspiration in nature – color & textures.
For those who haven't hired a designer before, What are some of the benefits of working with one, rather than doing the work yourself?
1. Design knowledge – We know how to make a space beautiful.  Best materials – when to save vs splurge. Up to date on trends and insight to resources. 
2.  Project Management – We can oversee the project, manage trades people, product deliveries and installation.
3.  Access to skilled professionals and trades people. 
4.  Save time and money by avoiding costly mistakes by purchasing the correct material, furniture, and accessories for your space.  Sourcing product for you, which saves you time.  Work with budget as designers have access to trade discounts which can save you money. 
5.  Create a space that will inspire you to "live beautifully"!
We love your shop, The Mercantile. What are some items we can look for this fall?
Our curated collection will be expanding to include rugs, pillows, and furniture.  More decorative accessories of frames, trays, boxes, tabletop, and textiles.
---
Town & Country Design Studio, located in Red Bank, NJ, was established when owner, Ginny Padula, saw a need for a boutique design studio specializing in hard finish selections for the home.  She envisioned a place where clients could enjoy a seamless and comprehensive process for their new build and renovation projects. Having a background in construction has enabled Ginny to fully understand the design process, and simplify what can often be confusing construction phases and a complicated endeavor. Since 2008, TCDS has been the premier source for luxury, bespoke cabinetry, materials, and design for clients in New Jersey and beyond.

In addition to design services, The Mercantile offers a curated collection of homewares in their Red Bank showroom. Whether you're freshening up your space and need some new decor, or want to pick up a unique gift, you'll find beautiful items at The Mercantile.
Red Bank, NJ
732.345.1441
townandcountrydesignstudio.com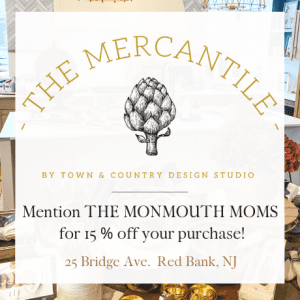 ---
Sponsored by: Town & Country Design Studio