We're so excited to bring your our first ever Pet Care Guide! We've included local groomers, veterinarians, dog parks, and more! Because our furry friends are part of the family too, and we want to give them the best! Check it out below!
---
From training and grooming to daycare and boarding, your pet will feel right at home in our secure, natural setting. With two state-of-the-art locations and a staff of professional dog lovers, Green Leaf Pet Resort keeps tails wagging with the perfect combination of luxury and love. We offer a host of activities to ensure a healthy, happy, and enriched experience for dogs of all kinds. We have a dog care principle that we adhere to dogmatically (pun intended). We call it the "24/7 Promise" This promise means we are here to care for your dog's every moment and every need – 24 hours a day, seven days a week.
With over 40 years of experience, we're able to provide the highest quality services in a multitude of departments such as training, boarding, daycare, swimming, and grooming. For training, our philosophy is simple: address the whole dog and gain control through kindness, kindness, and more kindness. There's room for dogs of all breeds, ages, and personalities to fit right in at any activity at Green Leaf thanks to our private playtimes, customized daycare rooms, and dedicated care team. At our grooming salon, we do everything from the chic poodle 'do to a simple trim. Whether it's just a bath, or a full clip and scissors, our expert groomers will keep your dog looking pretty (or handsome) and feeling great.
Our fully trained and professional staff is on stand-by, waiting to give your pup the perfect home away from home experience. Whether they are bashful, daring, or somewhere in-between, we provide a wide range of programs and activities to fit any personality. We are open from 7am to 7pm, Monday through Friday and 9am to 5pm on Saturday and Sunday. Give us a call at 844-LUVDOGS to get your play-day started!. We look forward to hearing from you.
Location + Contact Information
Oakhurst or Green Leaf by the Ocean: 1602 Route 35, Oakhurst, NJ 07755
Millstone or Green Leaf in the Country: 23 Burnt Tavern Road, Millstone, NJ 08510
Phone: (844) LUVDOGS
---
At Pet's General Store we'll give you the small town attention and personal service you'll come to expect and enjoy! Conveniently located by the A&P in Little Silver.
We take pride in our wide selection of quality products. All of the products we offer are from trusted brands. Stop in to see the wide variety of food and treats we carry. If you don't see it don't hesitate to ask and we will be happy to get it for you.
Location + Contact Information
32 Prospect Plaza (Acme Center)
Little Silver, NJ 07739
732-345-1200
---
The team at Camp K Nine is dedicated to making sure your dog has the time of its life! Whether your dog is in for training, boarding, dog day care, or grooming in our MIddletown, NJ location, we assure a safe, happy environment for all of your pets needs. Dog daycare should be more than just a place to leave your dog when you can't be with them. At Camp K Nine we treat your dog to fun days filled with socialization, exercise and interaction with our loving team. No need to worry about lacking the time or energy to play with your dog because at the end of the day, you'll pick up one happy pup.
Keep your dog looking and feeling great! We offer baths, brush, nail trim, Spa baths, and ear cleaning. Camp K Nine takes pride in strengthening the bond between you and your dog with a strong emphasis on teaching your dog the highest level of obedience. Our programs are certain to meet all your training needs, understanding that each client/dog relationship is different. While you're away, rest assured your best friend is getting plenty of love and attention from our well trained staff. Your pup will enjoy spacious lodging, daily housekeeping, room service and activities including plenty of playtime.
Location + Contact Information
152 Magnolia Ln,
Middletown, New Jersey 07748
---
   Dogs On The Farm & Cats Too
is a full service play & stay pet resort – family owned and operated for 20 years. The facility is located in the Chapel Hill section of Middletown on the owner's 5 1/2 acre historic horse farm so visiting dogs have plenty of room to run, and they can even enjoy watching the horses graze from the outside play yards! We offer boarding, daycare, training, pet sitting, and grooming. For our feline friends we offer boarding, daycare, and pet sitting. Transportation is available as well.
   Safety and fun are always our top priorities. All dogs staying overnight get play time included with their stays – group or private play. Dogs are separated into appropriate play groups for their size and temperament, and are always supervised while playing by trained staff. We offer live webcams, recorded videos, and photos daily so pet parents can watch their dogs play! The play yards are huge, both indoor and outdoor. Our outdoor play yards feature a custom swim park, and our indoor play yards are climate controlled for bad weather play. Besides standard group play daycare, we offer one-on-one play sessions and a variety of fun enrichment activities from farm walks to puzzle games and TLC tuck-ins to training sessions. Kitty guests can play with laser pointers and catnip toys, among other activities.
   Overnight guests stay in our modern farm style boarding area with modern glass front suites. All accommodations include a toy box, food and water dishes, and a comfortable bed.  Pet parents can choose larger suites up to 600 square ft or cozier accommodations for dogs who prefer a den-like space. Kitties stay in our kitty condos in the cattery off the office in a separate space from the canine guests. But regardless of the room type and activities you choose, your pet will enjoy lots of fun and one-on-one care and attention from our loving staff, whether they're here for the day or the week.
Location + Contact Information
790 King Hwy East
Atlantic Highlands, NJ 07716
---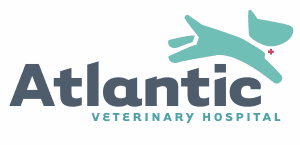 The Atlantic Veterinary Hospital team is committed to maintaining your pet's optimal health. We believe that educating pet owners is key to building a strong relationship with our clients while allowing them to feel confident when making important decisions about their pet's well-being. We place an emphasis on thorough, timely communication, exceptional customer service, innovative patient care and providing a learning environment for our staff and our clients as well as members of the local communities.
Atlantic Veterinary Hospital was founded by Doctors Richard Baumgartner and Allison Bosworth, colleagues who shared the same desire to open a quality veterinary hospital where all clients and their pets are treated with, not only integrity and compassion, but with professionalism.  Doctors Baumgartner and Bosworth believe that clients deserve more than a diagnosis and a prescription; they deserve to be informed in order to understand how best to care for their pets and keep them healthy.
Thus, with a strong commitment to personalized, innovative, researched-based methodologies, they designed a modern facility with the goal of providing each animal and its owners with the same positive experience for a routine check-up as for a more stressful emergency visit. Most importantly, our doctors and staff strive to conduct themselves in an ethical and responsible manner and build strong relationships with clients, patients and colleagues. At Atlantic Veterinary Hospital, we are dedicated to recording thorough medical histories, providing comprehensive exams, advising on preventative care and using the most modern insights in veterinary medicine to help your pets live long and happy lives.
Location + Contact Information
2405 RT. 71
Spring Lake Heights, NJ 07762
---
  Woof Gang Bakery is Your Neighborhood Pet Store. We are the leading specialty retailer of pet food, pet supplies, and professional pet grooming. We offer the very best in pet care by providing quality products and grooming with a service-oriented approach. We are committed to the well-being, health, and happiness of pets. Come visit our pet supply store in Aberdeen, NJ, specializing in quality food, treats, and supplies for cats and dogs. We help you provide the best for your pet. We carry raw, kibble, canned, and dehydrated dog and cat foods. Our quality pet food brands are formulated to nourish your pet with nutrient-rich foods that promote lifelong health. The nutritionally balanced pet foods we offer are free from artificial colors, flavors, and preservatives. 
Location & Contact Information
---
Welcome to Purr'n Pooch Pet Resorts. Since 1969, more than 1,000,000 clients from New York, New Jersey and Pennsylvania have enjoyed our warm welcome, world-class pet resorts and top-notch amenities. Purr'n Pooch facilities are designed to provide the optimum levels of comfort, safety and care to your pets.
At both the Tinton Falls and Wall Township locations, our professional dedicated staff is fully trained to make sure your pets receive the very best in daily care and services. We care for your dog or cat with respect and compassion, providing your best friend with the attention he or she deserves 24 hours, 365 days a year. We invite you to visit and tour our facilities, recommended by over 100 veterinarians.
Locations & Contact Information
---
LOCAL DOGS PARKS
Thompson Park
Marlboro Dog Park
Wolf Hill Park Off-Leash Dog Aea (Oceanport)
Bark Park Off Leash Dog Park (Howell)
Wall Township Off Leash Dog Park
Orchard Park Dog Park (Manasquan)
Asbury Park Dog Beach
Alexander Ching Memorial Dog Park (Bayonet Farm)
---
LOCAL VETERINARY CLINICS
Veterinarians
125 Leonardville Rd. Belford, NJ
732-787-0055
197 Hance Ave. Tinton Falls, NJ
732-747-3636
1330 NJ-35, Middletown Township
(732) 671-1503
2168 NJ-35, Holmdel
(732) 671-3110
225 Monmouth Rd, Oakhurst
(732) 531-1212
675 Branch Ave, Little Silver
(732) 842-8266
The Spay & Neuter Center of New Jersey
2094 NJ-35, Holmdel
(732) 796-0900
622 NJ-34, Matawan,
(732) 566-6550
55 NJ-34, Morganville
(732) 952-5858
Central Jersey Animal Hospital
44 Thoreau Dr, Freehold
(732) 845-0200
Garden State Veterinary Specialists
1 Pine St, Tinton Falls
(732) 922-0011
Happy Tails Veterinary Hospital
827 Broad St Ste 7, Shrewsbury
(732) 268-8180
Central Monmouth Animal Hospital
154 South St, Freehold
(732) 462-1876
---
This post contains sponsored content