Jessica Roberts is the head PA and Clinical Manager at HerSpace MedSpa in Little Silver, NJ. A Staten Island native, Jessica moved to Holmdel three years ago with her beautiful family. When she's not helping moms at HerSpace to look and feel their best, you can find Jessica spending time with her two children outdoors throughout Monmouth County! Learn more about Jessica in our interview below, including her favorite date night restaurant, her goals as a mom to two, and more about how she's grown HerSpace MedSpa over the last year!
---
Where are you from originally and how long have you lived in town?
I was born and raised in Staten Island, New York and moved to Holmdel a little over three years ago.  Education has always been extremely important to me, so my husband and I decided to move here for the schools for our children.
Child(ren) and Age(s)?
I have two children; My daughter, Sadie, is almost six and my son, Timmy, is almost three.
One thing people would be surprised to know about you…
I not only play golf, but I'm actually good at it and even taught my husband how to play.
Anyone special you'd like to thank for helping you through parenthood?
I have an amazing support system. I'd like to thank my mother and mother-in-law for being my primary childcare for the last six years.  I am very fortunate to have had them both to watch and help raise my kids.  There is nothing like peace of mind knowing your kids are in the best and most loving hands when you are not with them.
Favorite things to do with your kids?
We love to visit my sister's farm in Colts Neck and play with her dogs and help with farm tasks like feeding the chickens and cows.  Both kids are extremely active and love to run around and swim there. We love the beach as well. I am fortunate enough to frequently visit my parents' house in LBI. It is our special place and our favorite getaway.
Are you involved in a business venture, a local organization, a creative endeavor, or in the corporate world? Please share!
I am the head PA at Herspace Medspa in Little Silver and the Clinical Manager. I helped grow this business and look forward to its next steps!
How has this community been instrumental in getting you to where you are now?
This community has been nothing but supportive.  It is so nice to be apart of a network of women that genuinely want to help one another succeed.  I have been able to do a number of successful events with a lot of the local businesses and it's been very beneficial to the growth of the Medspa. These events have formed not only professional relationships, but personal ones as well and I truly care about helping others grow as well.
What is your favorite restaurant in Monmouth County?
With little kids, it is hard to go out a lot, but our go-to-spot is the Robinson's Ale House in Red Bank.
What is your favorite activity to do with your children in Monmouth County?
My favorite activity with the children is to take them to Oak Hill Farms, which is down the street from my house. They love getting a treat, seeing the animals and running around the farm. We always run into friends there so it becomes an extended play date. The coffee is delicious as well!
What are your Mom Goals?
My goal as a mom is to be able to foster my children's development so that they can reach their maximal potential. I see so many amazing qualities in my children and I want them to grow into wonderful human beings. Education is extremely important to me, so I work hard to be able to provide the best for them.
---
Sponsored by: HerSpace MedSpa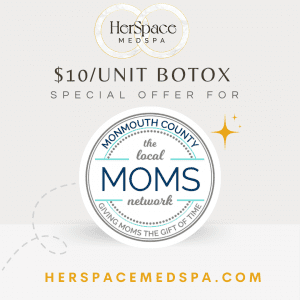 200 White Rd. Unit 111
Little Silver, NJ
732.747.7935