Since the age of 13, I've struggled with skin issues. It's oily and breakout prone. When I was a teen, I was prescribed everything you can think of, from creams to prescription care to antibiotics and Accutane. I thought as I got older I would grow out of it, and have normal skin as an adult. Unfortunately that's never been the case! I know what works to keep breakouts at bay, but I've never really been able to use skin care that is moisturizing. As I've aged, I've become concerned with lines and wish I could use anti-aging products that will help prevent them!
I've been working with HerSpace MedSpa this year with The Monmouth Moms, and after learning more, was intrigued to see if they could help me too! Last month, I met with Jessica Roberts PA-C, Clinical Manager for HerSpace, and had such a great experience! Their office is so inviting and sparkling clean, and the staff is warm and welcoming.
After sitting down with Jessica to discuss my skincare struggles, she encouraged me to try one of their skincare lines, Skinceuticals, along with Botox. I had the Botox injected that morning, and went home with the following skincare products:
LHA Cleansing Gel
LHA Toner
Phloretin CF Serum
Phyto + Serum
Daily Moisturizer
A.G.E. Eye Complex
Daily Brightening UV Defense
I've been incredibly impressed on how well this entire experience has worked. The botox definitely helped get rid of lines on my forehead and eyes, and the Skinceuticals skincare regimen has actually eliminated the need for any drying acne products I used to use on a daily basis. My skin looks healthier and brighter, and it almost never looks oily, which I didn't think was possible!
Jessica believes in treating each patient based on their individual skincare needs, and advises that healthy skin starts within. HerSpace has most recently announced the addition of their Health Care Coach, Michaela Horvathova. These Health Coach services provide a more comprehensive skincare and overall health plan. Everyone is different, and HerSpace will look to curate a personalized "roadmap to health" that suits your unique body, lifestyle, preferences, and goals, all in a practical and pragmatic way.
  HerSpace MedSpa offers many additional services, such as customized facials with their aesthetician, Jamie Leigh Valinoti, IV therapy, microneedling and more. You can learn more by visiting their website, and make an appointment to make your aesthetic dreams a reality!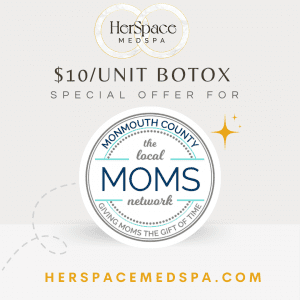 ---
200 White Rd. Unit 111
Little Silver, NJ
732.747.7935
Sponsored by: HerSpace Med Spa