The Axelrod Contemporary Ballet Theater, a program of Axelrod Performing Arts Center, is located inside Bell Works in Holmdel, NJ. Founders of the new Axelrod Contemporary Ballet Theater, President Elise Feldman and Artistic Director/Choreographer Gabriel Chajnik have developed the Axelrod Performing Arts Academy (APAA) which provides a unique and comprehensive training in dance and musical theater combining technique with performance opportunities and a series of seasonal professional dance and theatrical productions for children and adults. AXCBT is the first professional dance in the Monmouth County area, with the mission of cultivating an environment rooted in inspiration, encouragement, and equality.
Programs are led by top-level professionals with highly accredited backgrounds in theatre (including Tony award winners, well-known Broadway performers, and Principal Ballet dancers).
Gabriel Chajnik is a passionate educator, choreographer, and dance professional. He was trained under the tutelage of Maestro Hector Zaraspe and is an alumnus of the Juilliard School. Gabriel is a former dancer with American Repertory Ballet. His teaching credits expand from Argentina to Europe and the United States at Brooklyn Music School, Princeton Ballet, the Academy of Dance Arts and Gotta Dance in New Jersey. Gabriel's work has been featured at Juilliard, the Manhattan School of Music, the Shakespeare Theater in Washington, D.C., Alice Tully Hall, the Clark Theater at Lincoln Center, MMAC, and the Lambs Theater.
Working to inspire is their mission at AXCBT and the Axelrod Performing Arts Academy. APAA provides a unique and comprehensive training in dance and immersive theater arts combining technique with seasonal performance opportunities.
Through their programs, children learn a curriculum based on their skill set, cultivating an environment like none other. Chajnik says, "We craft instruction for the individual, not for the entire class." He says his instruction at Juilliard really impacted his own teaching methods with his students, enabling them to blossom and hone their craft.
Trial classes are available for children to learn more about upcoming contemporary ballet and theatrical dance programs including SpongeBob SquarePants in November and The Nutcracker in December. Auditions are being held this August, click on the shows for more information.  Moms can enjoy the amenities of Bell Works while kids are in class and take a class at Bar Method, grab a coffee at Booskerdoo, or bring your laptop and catch up on some work!
Adult dance classes are also available, and AXCBT offers a Master Class series! Click here for classes.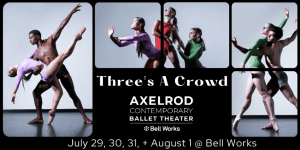 If you are a dance enthusiast, you will enjoy the upcoming performance at Axelrod Contemporary Ballet Theater this month and watch NYC dance artists join forces with local talented dancers in "Three's a Crowd" on July 29th through August 1st. Tickets on sale now.
AXCBT and APAA prides itself on its perseverance through the challenges of 2020 and the company's continuation of dance education. Chajnik and his professional dancers aim to expand creativity and appreciation for the arts throughout New Jersey, inviting patrons, students, and artists to join them on this gratifying endeavor.
Learn more about Axelrod Contemporary Ballet Theater by visiting their website, and take advantage of an incredible opportunity for your little emerging artists right in our own backyard!
Axelrod Contemporary Ballet Theatre
101 Crawfords Corner Rd.
Holmdel, NJ 07733
Sponsored by: Axelrod Performing Arts Center