Originally from Bensonhurt, Brooklyn, this beautiful mama lives in Manalapan, NJ with her four children and husband. Together, they run Caliber Construction, a family owned and operated business here in Monmouth County. Learn more in our interview below which highlights Oriana's incredible story about determination and perseverance, the amazing people who she's always counted on along the way, and some of her favorite things to do in Monmouth County with the family!
---
Where are you from originally and how long have you lived in town?
I'm Originally from Bensonhurst Brooklyn, and we have lived in NJ for two years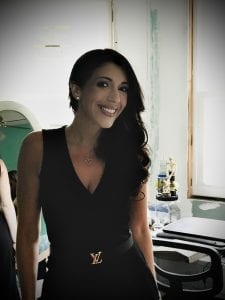 Child(ren) and Age(s)?
William-16 Male , Steven-14 Male , Brooklyn-13 Female, Christian-11 Male
One thing people would be surprised to know about you…
Im a mom, a female contractor, and a domestic violence survivor. I met my new husband having 4 kids working a full time job and going to school full time, we started our company with $126, a drill & renting U-haul truck for work. We worked our asses off, the hustle was real! Today we have built amazing relationships with our customers, and we strive in making all of our customers a lifelong relationship…we still can't believe how far we have come and that this is us! If you have a dream, a goal, you're in a situation or you want a change, we are living proof that anything is possible if you really want it!

Anyone special you'd like to thank for helping you through parenthood?
I owe my work ethic, my determination, the knowledge of being a mom &  how to love endlessly to my nana, my one consistent person in my life, the one who stepped up to the plate when my mom passed away when I was 9 without any hesitation.
I want to thank my husband, my best friend, for always pushing me to be my best self, always being supportive & loving us to infinity & beyond. You taught all of us just how amazing life can be- you have taught the kids how they should be treated, you have helped build their confidence, I love you!
Favorite things to do with your kids?
We love to do adventure such as family movie night and sports in the yard
Are you involved in a business venture, a local organization, a creative endeavor, or in the corporate world? Please share!
We are huge supports in our community, we do fundraisers, toy drives, events for kids. We also own Caliber Construction and provide kitchen remodels, bathroom renovations, vinyl and laminate flooring, tile, trim work (wainscoting, crown molding, coffered ceilings, etc.)
Serving commercial & residential
How has this community been instrumental in getting you to where you are now?
Everyone has been so supportive we have built so many friendships some of which have become our extended family.
What is your favorite restaurant in Monmouth County?
We frequently visit Downtown freehold for all of our restaurant needs
What is your favorite activity to do with your children in Monmouth County?
We love to go to Turkey Swamp Park and spend the day hiking and packing a lunch
What are your Mom Goals?
My goal as a mom is to raise good, honest , kind ,loving ,respectable children with high goals.
Caliber Construction
Serving Monmouth County
(347) 424-5990
---
Sponsored by: Caliber Construction