Small Business Saturday with Stacey Donadio is back this week with a Monmouth County Mom owned business, Paint A Tee! Owner Marissa Clifford, sits down with Stacey to discuss what it's been like running a business over the last year during COVID, exciting plans she has for 2021, and why she loves having a business in our community!
---
Where are you from and where do you live now?
I grew up in West Long Branch, NJ & I now live in Middletown, NJ
Tell us about your business!
Paint A Tee is a mobile art studio.  We provide an innovative party concept where we come to you to make you and your guests designers for the day!  When we arrive, you choose what items you want to customize, pick your color combo & choose your design to create.  You can design your own tee shirts, flip sequins pillows, flip sequins backpacks, face masks & much more on paper.  We then make all of your custom items right in your driveway to leave with that same day.  When you choose the flip sequins option, we do a big reveal of your art by flipping it!  The kids always go crazy!!!!  Paint A Tee is a PARTY on wheels!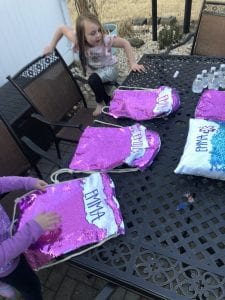 What's your background? What made you go into what you're doing now?
When I graduated from Villanova University, I started a career as a Financial Analyst at Merrill Lynch in NY.  After a few years, I decided to switch gears & backpacked through the South Pacific for three months by myself.  Upon my return, I started a new career in textile design at The Style Council.  This is where I came up with the idea of Paint A Tee!  At TSC, I was printing fabric yardage & helping high end designers come up with their lines each season in the fashion district.  One day, my nephew came to work with me.  I had him design his own tee shirt & he wouldn't take it off.  I thought about how kids do art all the time, but the ability to actually wear your own artwork is a whole other thing… I couldn't stop thinking about it & decided to move back to Monmouth County to open my own art studio.
What do you love about having a business in Monmouth County?
Monmouth County is the absolute best!  I couldn't imagine living or working anywhere else.  All of the Moms I meet and work with everyday are so amazing.  There is no better place to have a business & it's such a beautiful place.
What has been the most challenging part of running your business during COVID, and how did you overcome it?
When we were sent into quarantine in March 2020, I had to cancel over 20 parties.  I had a brick and mortar art studio in Red Bank on Monmouth Street.  I went months without being able to have anyone in the studio.  My lease was up for renewal in October of last year.  After being at the same location for 8 years, I decided to close the studio due to COVID.  That same month, I purchased a van & started doing mobile parties.  I think that my clients loved the control it gave them to have their parties at home & bring the creativity to their driveway.  I do not enter homes due to the coronavirus, but we do outdoor parties and lots of garage parties.
What are some exciting plans you have for the business in 2021?
2021 is really starting to shape up nicely for our party schedule!!!  We have 10 parties on the books so far this month and next month is looking even better.  We plan to continue to bring artsy parties to homes across Monmouth County and allow all our little artists be designers for the day & take home a memorable customized party favor.
What's your favorite business in Monmouth County (other than yours!)?
My favorite business is CoCo Beans Cafe.  The owner is also a fellow hard working Mom & does an amazing job at creating an awesome play space for our kids to play.  It's a super cool place & so clean during these times.
---
Small Business Saturday is Sponsored By:
Your Monmouth County Resource!
Call me for all of your Real Estate needs….You Deserve the Best.
908.601.6346