We're SO excited to bring you our 2021 Birthday Party Guide!
  Planning your child's birthday celebration can be a little overwhelming, especially these days! We've curated a fun list full of local venues, entertainers, planners, and more (to make things simple and EASY for you!). Whether you're doing something low key at home this year, or would prefer someone do all of the planning for you, you'll find tons of ideas to make your child's special day a PERFECT one! Check it out below!
---
  From balloons and party décor to cake toppers and customized decals, we help everyone create Instagram-worthy events and experiences that will turn heads and keep people talking.
  When it comes to our balloon installations, you'll love how quickly it transforms a space! Whether you are looking to bring attention to your store, add something fun to your next party or make a statement, our balloon decor can do just that!  Balloon installations are on trend and can be seen everywhere from a wedding to backyard birthdays to retail displays.
 Our balloon installations include a one-on-one consultation and a rendering of the color combinations, style and fit. We have years of experience in event planning and design , so if you have questions about any part of your event, we can help! We'll bring some fun!
---
Nicholas Creamery
Fair Haven, Atlantic Highlands, Tinton Falls
---
37 Kanes Lane
Middletown, NJ 07748
732.856.9599
---
  The Centercourt Ninja Parties are focused on fun while developing strength, agility, balance, and confidence through movement. Obstacles have been created for all Ninja Levels to achieve. Coaches will guide you and your guests through obstacles and ninja games.
We are now offering Birthday parties in our new Dome! Multi-Sport, Inflatables and other exciting activities as well!
Packages:
Ninja Party$395
Up to 10 people – 1 hour on the Ninja Course – 30 minutes of Pizza and Cake – 2 Coaches
Ninja Party & Multi-sport Party $395
30 minutes on the Ninja Course – 30 minutes in the Dome for sports activities  – 30 minutes of Pizza and Cake – 2 Coaches
Multi-Sport Dome
Base $395
Up to 10 people – 1 hour of sport activities (Soccer, Lacrosse, Baseball, Field Hockey, etc) – 30 minutes of Pizza and Cake
Premium $495
1 hour of sports and Inflatables – 30 mini of Pizza and Cake
Deluxe $595
2 hours – Custom decorations, restaurant catering provided by the parents, sports activities and inflatables  – $25 surcharge per additional child over 10 participants.
185 Amboy Rd.
Marlboro, NJ
732.965.1065
---
    Our slogan describes our business.  We literally "bring the zoo to you" and have been doing so in Monmouth County and beyond since 2004. We accomplish this in a uniquely captivating way while simultaneously exciting, entertaining, and educating them in the process. Wild Side Zoo has been utilized by schools, senior care facilities, and summer camps to share our animal family and add an upbeat, stylized brand of conservation-oriented wildlife education to their curriculum and schedules over 2,500 times.  
Signature Interactive Experience:  
-1 hour show  including 10-12  Animals
-Animal interaction and guided handling throughout.   
-Pictures Welcome
-$375  (Travel Fees added for NYC  or above 40 miles from our facility)
About our Service:  Our presentations feature animals progressing in size from hatchlings through adults of larger species.  The show includes snakes, lizards, tortoises, mammals, birds, and potentially even a creepy insect!   Your wildlife handler will introduce each individual animal one at a time and engage the audience while captivating their attention!  During this time, willing participants are encouraged to pet and touch the animal.  After this, closely supervised and assisted handling opportunities drive the excitement, especially for your animal loving Birthday child.  Adults are also encouraged to participate in the fun!  We guarantee our animals will make your Instagram and Facebook pictures wild!
Current Special:   
Having a tiny party or none at all, but still want to do something special to commemorate a birthday or any milestone? Or do you want to gift an animal lover in your life  a  fun afternoon? Host our Signature Interactive Experience Package on a Monday – Thursday and save $100 from the above listed price! Your event can be booked anytime in 2021, but this is a limited time offer, and will not be available for much longer. Take  advantage today! (private events only, 10 children ages 2-12 maximum)
732-264-1879  
---
  Silverball Retro Arcade is an entertainment venue for all ages located on the beautiful Asbury Park boardwalk! We have over 600 games in rotation from classic to modern pinball skee ball, video games and more! We host just about every event you can think of ranging from birthdays, school trips, summer camp trips, corporate events, and weddings! Our Silverball Cafe is stocked with your favorite boardwalk foods like hot dogs and pizza and we offer group packages so you can eat while you play. We will work with you to ensure that you have a great experience for your event. If there's something that your event needs and we don't have it, we can work with other local businesses to meet those requests. We promise everyone will have a blast and leave with a smile!
1000 Ocean Ave.
Asbury Park, NJ
732-774-4994 ext 3.
---
With locations in Toms River, Brick, Middletown, and Oakhurst, Party Fair is your discount headquarters for party supplies, balloons, and more!!
Whether you are planning a party for a birthday, graduation, sporting event, baby shower, bridal shower, wedding reception, a holiday party, a theme party or just general entertaining… Party Fair can help! Call us and stop by one of our Jersey Shore locations today!
Middletown, Oakhurst, Brick, Toms River
---
At The Muse Art Studio, we put the "ART" in pARTy! The Muse is on the move with our custom made ON LOCATION paint parties! Our traveling Art Studio will come set up the perfect paint party in your space (indoors/outdoors) to celebrate and create with your FUTURE ARTIST and FRIENDS! Choose from our original Art pARTy options such as Paint Pouring and Glow in the Dark. Have an idea that your Future Artist will love?!?! The Muse can and will create a custom themed Art Party that will be sure to inspire your future artist and friends! In addition to our Art pARTy options The Muse also offers add ons to our birthday packages including seasonal themed Art Kits, face painting, and custom made gift bags for all art pARTy attendees!
The Muse Art Studio is now booking ON LOCATION Art Parties Friday afternoons, Saturdays and Sundays April-August 2021! DM for more info on our ART paint party options and to book your date!
4 Church St.
Little Silver, NJ 07739
(908) 963-6682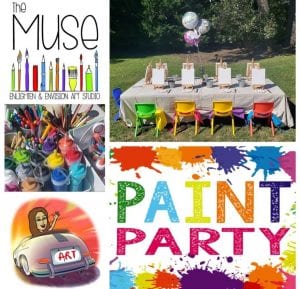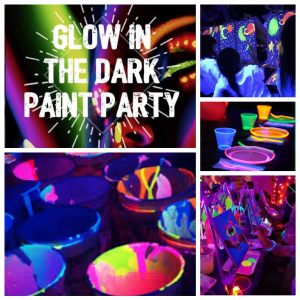 ---
At Middletown Sports Complex, we specialize in birthday parties for all ages! Check out the variety of our birthday party packages ranging from pool to laser tag to ice skating! We can provide any combination of party – if you do not see one available, please inquire: aroussos@titansnj.com.P
Party Themes Include:
Ice Skating
Laser Tag
Painting
Skate & Laser Tag
Painting & Ice Skating Party
Painting & Laser Tag
Pool
Pool Party with Laser Tag or Paint
Each party includes a party host, paper goods, balloons, pizza, soft drinks, and cupcakes.
214 Harmony Rd.
Middletown, NJ 07748
732.856.9700
Serving Monmouth County
theboastfulhost@gmail.com
---
Our facility features an indoor playground space for young children, under 6 years old filled with carefully chosen toys, play environments and furnishings, designed to engage a child's imagination. We have a variety of snacks and treats for kids and adults to purchase as well as coffee, tea, and bottled water.
Our private parties are different and unique. Weather it's a birthday party, playgroup, family reunion or other type of gathering, we've got your party needs covered! Book online and leave the rest to us! We offer great variety of parties packages and unbeatable prices. Our play space is suitable for kids under 6 years old.
1610 Route 35 South
Oakhurst, NJ
732.509.7600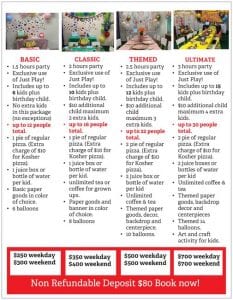 ---
Enjoy the ULTIMATE Birthday Party for your child at iPlay America TODAY!
Providing your child with the perfect birthday party is no easy feat, but iPlay America is here to save the day! Come to iPlay America this summer to enjoy this one-of-a-kind city of entertainment and all the party options available.
No matter how your child chooses to play, iPlay America has you covered – with a multitude of unique parties perfect for kids and teens alike, iPlay America is the perfect place for your child to Get Inside the FUN on their birthday.
iPlay America's parties are perfect for any size group and feature Amusement Rides, 250+ Arcade Games – including the new VR game Kong of Skull Island ­– 2-Level Laser Tag – and so much more!
Learn more about our epic parties!
110 Schanck Rd.
Freehold, NJ 07728
732.577.8200
---
ShoutOut Yard Cards is staking yards with happiness for all occasions and for all to see! Customize your own cards to enhance your little one's celebration on their big day! Shout Out has endless options, colors, and themes to complete your upcoming party!
Packages Include:
Lil ShoutOut! Up to 15 characters (letters and graphics), colors in stock, personalization
ShoutOut! 16 to up to 24 characters (letters and graphics), color options, personalization
ShoutOut LOUD! 26+ letters (letters and graphics), color options, personalization
Our HUGE 24″ Yard Cards are not just a message they are a
PRESENTATION! Letters & Graphics that will add "#ZHUZH" to any occasion, celebration, or event!
For rent or for sale!
Design – Setup – Pickup!
Serving Monmouth County
1.833.SHOUT63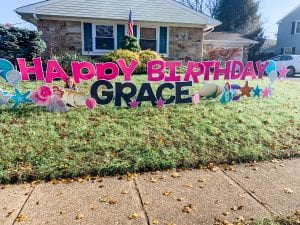 ---
 Choose from three different party options: All Star, Ultimate, and VIP Party!
Play Big Zone
300 Campus Drive
Morganville, NJ 07751
732.991.1993
---
LIFE IS SHORT! EAT THE CAKE & BUY THE PIZZA!
 Sugar is committed to providing only the best to our customers! We do all of our baking on site and are pleased to not only serve "decadent desserts," but gourmet foods. Come in for breakfast, an afternoon snack, a delicious dessert for an evening with friends or a "one of a kind" cake for a special occasion!
We look forward to welcoming you to our shop and serving all of your bakery and dessert needs!
406 Higgins Ave.
Brielle, NJ 08730
732.612.8282
---
Slumber Party Experiences that Wow
We deliver a slumber party experience with loads of charm. Each guest enjoys a tent with all the extra details made to transform the night into one that will always be remembered. We handle complete set up, styling and breakdown.
Styles are available for both boys and girls. Each party includes hand crafted wood tents, plush mattresses with cover sheets, bamboo snack trays, decorative pillows, lanterns, a glowing marquee sign, a fluffy rug, and twinkle light details. We also love to customize if you have a specific vision!
Balloon add on options are also available – garlands, tent toppers and custom made balloon mosaics.
The price is $100 per tent and a 50% deposit secures your date.
What Our Customers Say:
"Thank you so much for creating such a magical Mario theme for Otis! They had a blast!…highly recommend and would definitely do it again."- Mandy, Fair Haven
"Thank you for working with me to make my daughter's birthday a memorable one. The girls enjoyed all the details that went into the set up from the lights, the snack trays, pillows and balloons. You were a pleasure to deal with and would recommend to anyone considering a party." – Julianna, Monroe Township
"Lauren Michael Events made my daughter's birthday sleepover super magical… My daughter was overjoyed and felt so special …so fun to work with!" – Amanda, Colts Neck
Serving Monmouth County
732-539-4625
---
  Baymar Farms has been family owned and operated since 1970 and offers every aspect of riding for the horse enthusiast.
Our state of the art facility offers a family oriented, positive environment in which our students can enjoy all of our programs. We are constantly updating the facility to provide the highest quality experience for all of our clients, both human and equine.
We do pony parties for children 6 & under and riding parties for 7 & over. Indoor riding arena and birthday room for inclement weather.  Outdoor picnic area and riding arena for good weather.
If your child has a love for horses, plan your next birthday party at Baymar Farms!
38 Harbor Rd.
Morganville, NJ 07751
732.591.9600
---
This post contains sponsored content