Our 2021 Home Improvement Guide is here!
Spring time is all about cleaning, redecorating, and getting started on those projects you planned all winter long! We've rounded up a comprehensive list of amazing local businesses who can help you improve your home. Whether you're looking for help with interior design, remodeling your kitchen, or want to add a pool in the yard this summer, we have you covered!
Check it out below, and tackle that to-do list with the best of Monmouth County!
---
   Bain's Outdoor Living
is a lifestyle store specializing in exterior design, lighting, outdoor furniture, and home accessories.  Located in Rumson, NJ, Bain's proudly serves Monmouth & Ocean counties. You'll find everything you need to transform your backyard into your dream oasis!
     Exteriors:
 Walpole Outdoors
 Exterior Lighting & Lantern Posts
 Mailboxes
 Pergolas
 Fencing
 Arbors
   Outdoor Furniture:
 Kingsley Bate
 Janus et Cie
 Barlow Tyrie
 Gloster
 Seaside Casual
 Lloyd Flanders
125 E. River Rd.
Rumson, NJ
(732) 530 3210
---
Our Company is family owned & operated. When we complete your project that's the level of detail "The Caliber Of Work" you should always receive, continuing to Elevate Expectations. Treating all of our costumers with the same level of professionalism and respect no matter the size of the project. Our projects include but are not limited to kitchen remodels, bathroom renovations, vinyl and laminate flooring, tile, trim work (wainscoting, crown molding, coffered ceilings, etc.) both for commercial & residential . Occupied and fully operational job sites are never a problem.  We can also plan, manage, and build multi-phase jobs.
Not only are we a family-owned company, we also treat everyone of our customers like they are family as well. We offer an end-to-end client experience that includes seamless communication, budgeting, staffing, on-site organization, and solid, quality handiwork every time.
Call to schedule a free estimate to be one more of our satisfied customers under Construction. Our Motto: "Good Enough… Isn't Good Enough"
---
Full Service Interior Design & Project Management Firm
Dulce Feito-Daly Interior Design, LLC has been a referral-based business for 25 years, cultivating many successful client, design trade & community relationships.  We offer professional guidance through every step of the decision-making process & each project phase to fully develop our client's personal vision and design aesthetic.  Our philosophy is that any design & renovation process, no matter how large or small, should be seamless, comprehensive, budget conscious and most of all a reflection of the client's lifestyle.
Range of Services Offered
Dulce Feito-Daly's interior design & construction expertise brings concepts to successful completion. Dulce is an ASID certified interior designer. We have a vast network of general contractors, tradesmen, product manufacturers, & trade professionals to form a cohesive project team.  Dulce Feito-Daly has extensive experience as a project manager who specifies products & services, develops & executes contractor schedules & the timely fulfillment of products & services. Budgeting, financial planning, project phase development & scheduling are key elements to the successful completion of a project. Additional services offered are as follows.
Residential Interior Design, Construction & Specification Services
Primary residences, vacation homes & investment properties
Kitchen & bathroom renovations
Tile design
Cabinetry & millwork
Window Treatments, custom furniture, fabrics & other textiles
Paint color schemes & color theory
Artwork & Accessories
Furniture, including custom
Lighting design
Selection & specification of finishing material selections for interior & exterior
Plans for preconstruction services with architects, general contractors & specialty trades
Problem solving
Associate ASID
732.233.9500  |  Red Bank, NJ |  Dulce@DFDInteriorDesign.com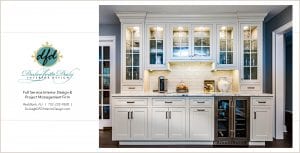 ---
Located in Fair Haven, NJ, Shop by Salt offers a wide array of home-styling services and products. 
Product Consultations: 
  Our product consultations are for the person who is excited about decorating their home but wants help picking out the perfect rug, sofa, or piece of artwork. At

Salt

, we offer in-store product consultations. Our (very talented) retail specialists will meet with you one-on-one to listen to your interior design plans and provide you with the ideas and advice you need to pick the perfect pieces for your space.
  In addition to helping you pick out home furnishings to support your design needs, we will walk you through a wide variety of vendors you can't access online. With on-site access to thousands of samples, we make the process efficient and simple. We then help you place your order, coordinate delivery, and arrange for installation services with ease and excellence.
Styling Services:
  Styling an entryway, bookshelf, bar, or mantel can be a daunting task. Whether you want that complete, put-together look for a room, or you're playing host and want things to look just right,

Salt

can assist you with your styling needs.The service is complimentary with a $500 minimum product spend in our shop. Beyond using items you purchase from our shop, we're also happy to incorporate any decorative items you already have. Our goal is to help you take on daunting design tasks and style special spaces in your home.
Stop by their retail shop located at:
772 River Road
Fair Haven, NJ 07704
---
  Alfano Renovations is a full service renovations company that also owns and operates a kitchen and bath showroom. They're a one stop design and build company. From the initial in home consultation, to the meeting in their designer showroom and then to the renovations work, they handle it all! Alfano has on-staff cabinet installers, tile installers, general carpenters, a demolition crew, finish work crew and are even licensed electricians.
  Visit their 5,000 Sq Ft showroom which displays many styles and finishes of kitchen and bath cabinets, granite and quartz counters, hardware, plumbing fixtures, bathroom tile vignettes, along with floor and wall tile of all shapes, sizes and colors!
1631 Hwy 35
Ocean, NJ 07027
P. 732.922.2020
---
  Artistic Tile's Shrewsbury showroom has stood as a landmark in Monmouth County for nearly two decades. Stop by and feel at home with our attentive and dedicated staff of design specialists, and find inspiration for your upcoming project with Artistic Tile's proprietary collection of in-house designs.
777 Broad St.
Shrewsbury, NJ
732.212.1616
---
 C&C Air Conditioning and Heating has been serving Central Jersey homes and businesses for over 50 years! They're a fully equipped, licensed and highly accredited company with a long standing history of excellence. C&C Air Conditioning & Heating and their team will work diligently to ensure that all of your home and office air conditioning and heating comfort needs are met each and every day! Their focus is and always has been their customers; C&C believes in 100% customer satisfaction. C&C Air Conditioning & Heating is your reliable, dependable, knowledgeable team, and they commit to giving you the best possible service for years to come!
–  Cooling Service
– Heating Service
– Plumbing
– Maintenance
752 NJ 36
Belford, NJ
732.495.0600
---
   Coastal Décor is a retail store and an Interior Design Studio located in the historic town of Fair Haven, NJ.
  We specialize in a "feel at home" style of design by infusing an authentic Coastal vibe, giving your home a relaxed atmosphere that makes it, both stylish and functional. Good design is about the client and their needs, it should reflect you, your individual style, comfort, and how it will function best for your day to day lifestyle
  The shop has a unique California Coastal style, offering pieces and vendors that used to be exclusive to the West Coast. At Coastal Décor, we offer a wide range of products which include furniture, lighting, accessories, housewares and fun gifts. We also have a current selection of fashionable and functional fabrics that can be used for draperies, bedding and upholstery.
For the entire month of March:
20% OFF all custom drapery
Pick your favorite fabric, we will work with you to design the perfect drapery for your room, and install it for you. Woven and cellular shades not included.
803 River Rd.
Fair Haven, NJ
732.842.8244
---
For over 64 years, Central Jersey Pools has offered exceptional products and service with a smile for residential pool owners. Our family-owned and operated company has been a "can't miss" destination for homeowners looking to install or maintain their above-ground and in-ground pools. NJ residents have come to rely on our excellent reputation for only using the best materials from professional, reputable suppliers and manufacturers – and the results speak for themselves.
Let Central Jersey Pools give you the backyard you've always dreamed of having. Come visit our showroom in Freehold, NJ ¬– just a mile north of the Freehold Raceway Mall – and see for yourself why we're the right choice for you!
4235 Rt.9 North
Freehold, NJ
---
No one wants to be dealing with an unexpected plumbing or heating problem, but when one does happen it's important to have a trusted plumbing and heating professional on your side. Force Plumbing & Heating LLC is the company many homeowners around Holmdel, NJ, and Monmouth County call when they need expert help fast. Our technicians are experienced and trained in the safest methods and equipment in the industry.
Rest easy knowing you and your family are out of harm's way when you call "The Hometown Pros You Can Trust."
158 NJ-36
Hazlet, NJ 07730
732.850.5720
---
Integrity Electrical, your local electrician, who specialize in service work, meeting all your electrical needs with efficiency, integrity and quality. We are here to make your future bright!
We use high quality materials.

From appointment time to job completion, we meet all deadlines.


Even more, we leave the job site as clean or better than when we arrived.
Wall, NJ
732.552.9045
---
CLEANING DONE RIGHT!
JDC commercial cleaning offers a variety of cleaning services for your commercial and residential spaces. Our frequently booked service is our electrostatic disinfectant spraying. We use an all-natural disinfectant which sticks to surfaces to eliminate virus causing agents without leaving any residue behind. We provide a disinfecting safety seal to inform your visitors you have a disinfected space! This is highly recommended for all common area spaces: playrooms, activity centers, and office spaces. In addition to sanitizing services, we also offer post construction cleanup for those home renovation projects you are working on. We'd be happy to discuss your cleaning and sanitizing needs, so let us do your dirty work!
Some services we provide include:
-Daily Service and Disinfecting
-Deep Cleaning
-Floor Maintenance
-COVID-19 Countermeasures; Spray Disinfecting
-Post-Construction Cleaning
-Property Maintenance
Serving Monmouth County
732.268.0009
---
Providing quality building materials since 1925, Millhurst Mills is a family-owned and operated home improvement retailer offering quality building materials, Ace Hardware, and Benjamin Moore® paint. Our most recent addition, Millhurst Design Center (MDC), is a visually stunning, 5,000 square-foot kitchen, bath, and tile showroom. Under one roof, we offer creative and functional design services for kitchens, baths, and living spaces perfect for every lifestyle and price range. We are also happy to assist with partial projects such as kitchen backsplashes, bath vanities, cabinet hardware refresh, built-in cabinetry, custom bars, laundry rooms, and much more! We're proud to be a partner with some of the best cabinet manufacturers in the industry. Our tile showroom offers an impressive selection of ceramic, porcelain, glass, metal, marble, and stone tiles in all shapes, sizes, and colors.
Let our team of experts guide your project from conception to completion in one convenient location. Schedule a complimentary consultation with one of our talented designers and let us make your renovation project an effortless and satisfying experience.
17 Sweetmans Lane
Manalapan, NJ 07726
732.858.5390
---
At Siding & Windows by Tim Cahill, we treat you like family. We are a family owned and operated roofing, windows, doors and siding services company providing quality home improvement options to homeowners throughout the Monmouth County area for more than 30 years.
When you want a home improvement contractor who gives you an honest assessment of your needs, who returns your phone calls, who arrives promptly to work and always wipes his feet at the front door, you want Siding & Windows by Tim Cahill. Why? Because your home matters.
36 12th St.
Keansburg, NJ
---
  Brown's Heating, Cooling and Plumbing offers high-quality plumbing services for homes and businesses throughout Monmouth and Ocean County, NJ area. Brown's plumbing professionals are eager to tackle any and all of your plumbing issues from simple drain cleaning to complex gas line repairs.
During normal business hours or in the middle of the night, they are there to help. Brown's also installs, maintains, and repairs heating systems, and they offer their air conditioning service that includes installation, maintenance and repairs, and 24/7 emergency service. You can also speak with one of Brown's Home Comfort Specialists to learn more about whole house generators, air quality assessment and filters, humidifier installations, radiant heat and more.
88 Birch Ave.
Little Silver, NJ
---
This post contains sponsored content