"The Way Youth Sports Should Be," is a way of life at i9 sports. Owner Jon Torine is a Fair Haven resident and former NFL football coach. After spending the better part of two decades coaching professional football, Jon says an incident with his own son's youth baseball team encouraged him to bring the i9 Sports program to Monmouth County.
An alarming 70% of kids quit a sport before the age of 13, many of which having developed anxiety and depression attributed to unhealthy competition and poor sportsmanship.
As Moms, we want our children to enjoy the sport they know and love, or simply to have the opportunity to try something new and get some exercise. i9 Sports of Eastern and Central Monmouth County enables your child to have FUN playing sports instructed by knowledgeable coaches. Kids practice and play in the same day, providing an added convenience for busy families. Coaches teach rather than blowing a whistle, and children learn the fundamentals of the sport while having fun!
i9 Sports provides age-appropriate competition and instruction for children including league play, clinics, instructional leagues and summer camps that are fun for kids and convenient for parents 🙌🏻  Programs include Flag Football, Soccer, Baseball/T-Ball, Basketball, Volleyball, Zip Lacrosse, Athletic Development and Cheerleading! Jon says kids have more fun through 'sports sampling," where they have the opportunity to try different sports throughout the seasons, and experience less burn out.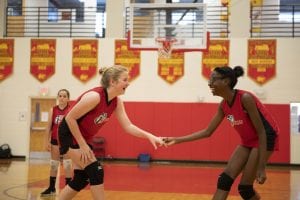 i9 Sports' mission is to provide sportsmanship lessons each week, and an environment that provides healthy competition in an organized and detailed manner. "Safety is first and foremost," Jon says. "Each i9 staff member and volunteer is background checked and coaches and officials are trained and certified. We follow all of the latest national and local COVID-19 safety protocols and always have a CPR-trained, first aid person on site."
It's a win-win for all! Learn more about i9 Sports registrations happening now with the link here ⚽️
732.898.2867