Meet Amy Montano! A Monmouth County native, Amy grew up in Red Bank, NJ. Before she settled in Little Silver, NJ with her family, she worked in the hospitality industry in Manhattan and LA, and is even a certified sommelier (we love a mom who knows her wine!). Amy is now loving life here in Monmouth County as a real estate broker, and spending her days at the beach and park with her daughter. Learn more in our interview below about Amy, including her favorite local restaurant!
Where are you from originally and how long have you lived in town?
I'm originally from Red Bank. I grew up in River Plaza and have lived in Monmouth County for most of my life.  I currently live in Little Silver.  We moved here in 2014.
Do you have children, and if so, how old are they?
One daughter, age 7
One thing people would be surprised to know about you…
I have a passion for food and wine.  I spent over 20 years working in restaurants.  I started at age 18, right out of high school, in order to support myself.  I worked my way up to a General Manager position overseeing over 75 employees. I have a first level sommelier certification and have worked in fine dining in Manhattan, Los Angeles and New Jersey.   When I found out we were expecting our daughter, I knew my career would have to change. In our search and move to our home in Little Silver, I found that I had another passion: real estate.  I became licensed 2 weeks before my daughter was born in 2013 and pivoted to a brand new career in residential real estate sales.
Anyone special you'd like to thank for helping you through parenthood?
My amazing group of friends.  They are all supportive and amazing women that I respect and can lean on.  They are also a constant source of inspiration.
Favorite things to do with your daughter?
The beach!  We are very lucky to be so close to Sea Bright and our beach club, Driftwood.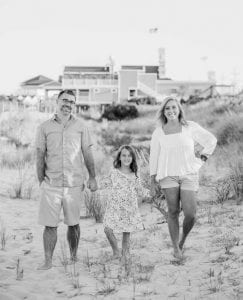 Are you involved in a business venture, a local organization, a creative endeavor, or in the corporate world? Please share!
Right now, my real estate business is my main focus.  I'm involved in my daughter's school PTO, various community activities and have coached Girls on the Run.
How has this community been instrumental in getting you to where you are now?
Having grown up and lived in Monmouth County for most of my life, I have a love and appreciation for all that it has to offer.  My knowledge of the area has helped me in my real estate business tremendously, having first hand knowledge regarding schools, neighborhoods, resources and local connections.  My clients receive top notch service from a true local.
What is your favorite restaurant in Monmouth County?
Anjelica's in Sea Bright
What is your favorite activity to do with your daughter in Monmouth County?
Going to the beach or one of the many great Monmouth County Parks for a bike ride or walk.
What are your Mom Goals?
To be a strong role model for my daughter, and to inspire her to reach for the stars and to not see a limit to her potential, while keeping her grounded in a sometimes overwhelming world.
Sponsored by: Amy Montano
Interested in buying or selling a home in Monmouth County? Contact Amy at: 732.272.4043 and don't forget to follow her on Facebook and Instagram!