Shore Kids Pediatric Therapies is located in Oceanport, NJ and owned by Tracy Garguilo (mom of 2 and one of our Meet-a-Mom features!). Shore Kids offers a host of services for children in Monmouth County including Occupational Therapy, Speech Therapy, Physical Therapy and Academic Testing and Tutoring. They have certified teachers, learning consultants and reading specialists that provide testing and tutoring for all ages and subjects and reading remediation programs such as Orton Gillingham and The Wilson Program.
All therapy is provided in a child friendly, play-based environment in our 3,000 square foot facility. Their extensive experience is in treating infants through adults. The Shore Kids staff consists of SLPs, OTs, PTs, BCBAs, Special Educators, Teachers of the Handicapped, Reading Specialists, LDTCs, Psychologists and Psychiatrists.
Shore Pediatric Kids Therapies pride themselves on developing strong relationships with each child and believe that involving the family is just as important. Their goal is to provide each child the necessary skills required to make him/her successful, while working towards the future.
When we spoke with Tracy earlier this year in our Meet-a-Mom interview, we asked how our community been instrumental in getting her to where you she is now, and her answer truly shows how passionate she is about helping kids and having the right team available to accomplish their goals:
"Since opening my practice 5 ½ years ago, it's amazing how my community has grown. I have met so many people that I never would have otherwise met. I collaborate with doctors, social workers, schools, psychologists, learning consultants and other therapists. I am so lucky to have the best team of therapists and teachers behind me. They make Shore Kids what it is. They are dedicated and passionate about what they do and helping children."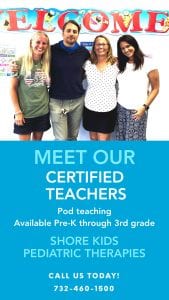 Shore Kids Pediatric Therapies
is offering POD classes on the following days, to help you with your remote learning needs! They are open for in person services and we are still offering tele therapy for clients that prefer that.
PK Mon-Friday 9-11:30
K Mon-Friday 12-3:30
Grades 1-2 and 2-3 Mon-Friday 12-3:30
Additional services offered include:
Individual Tutoring for All Subjects
Wilson and Orton Gillingham Reading Tutoring
Occupational Therapy
Physical Therapy
Speech Therapy
14 Bridgewaters Drive, Oceanport, NJ 07757
  www.shorekidspediatrictherapies.com
732.460.1500
Sponsored By: