Back-to-school has always been my favorite time of year. I loved school as a child growing up in Little Silver, and I even met my husband Tom Murdock on the first day of school… when we were in 6th grade!
Back-to-school came to mean a very hectic but invigorating time of year for me when I became a teacher and then a mom. This is the first year in a long time that I am not back in the classroom. However, I still enjoy this season the most. This year instead of writing student names on notebooks or lockers, I'm gathering materials and creating activities to interest my tutoring clients.
My teaching career started in the fall of 1987 when I taught first grade at Ranney School. It was a dream-come-true for me because I believe the first years of school are the most important. I then achieved another dream when I was hired to teach fourth grade in Little Silver Schools. (I was delighted to follow in the footsteps of my favorite teacher, Mrs. Dori Mawson.) A position teaching the gifted and talented program became available, and that opened the door to my absolute passion in the field. I worked on my Masters degree (EdPsych with a concentration in gifted education) while teaching the Challenge Program as well as the Technology Program. Computers were new in grammar schools at the time, and I was excited to expand my teaching repertoire. I eventually taught in Rumson Public Schools and then Rumson Country Day School, where I became the English Department Chair.
Bright students are sometimes unnoticed by overworked teachers who have a wide range of learners to teach each year. Some administrators have the needs of hundreds of students to oversee as well as budgetary constraints, so they assume high ability students "will make it on their own anyway." I contend that these are our future doctors, lawyers, investors, journalists, artists, philosophers, etc. Nurturing their potential is investing in our future. Beyond that, every single student deserves access to an education that is suited to his/her need for academic growth. One size does not fit all.
Today's pandemic puts teachers and administrators under even more pressure. As a result, I fear that gifted students will be underserved. Even during more progressive times, the Shore Consortium for Gifted and Talented was hard-pressed to maintain school memberships. This is a group comprised of representatives from local schools that would provide special workshops a few times each year expressly to nurture students' critical thinking skills and artistic talents.
Fortunately for me, my husband supports my passion to reach gifted students and encouraged me to become a tutor. I could see the immediate need for SAT tutors, and my graduate degree is technically centered around educational testing. My tutoring business grew, so I brought in Marissa Smith, an excellent math teacher and a very warm educator. I've been preparing students for the SAT for 15 years now, and Marrisa and I have brought hundreds of students to meet their goal scores and beyond! As a result, I left the classroom at the end of the 2019-2020 school year to focus my efforts on tutoring.
While helping teens meet success on high-stakes testing is satisfying, I would like to work with gifted youngsters again. Intellectually stimulating work gets kids excited about learning. I can add depth and complexity to a child's regular program or explore enrichment opportunities working with individuals or small groups. Consider a child's specialty. Why not use these unsettled times to focus positive energy into an enriching learning experience? Some children consider themselves to be mini-experts in areas of interest. What are those cool ideas that come up during dinner, long car rides, or perhaps every single waking moment? Yet, those concepts never get covered in school. That's where I can help!
The story of my career is rounding out with a resolution beyond what I could have dreamed of now that my tutoring business is combining with my husband's business, Two River College Group. Tom left Wall Street eleven years ago and now specializes in a holistic approach to guiding families through college and retirement solutions. We just added a certified college admissions counselor, Jacki Van Wagner, who recently earned her degree from UCLA and then interned with Ann Rossbach. This makes us the only one-stop-shop in the area giving families the upper hand in admissions, testing, and financial opportunities throughout the process.
Services offered:
Parents of children in grades K-8:
Intellectually stimulating work gets kids excited about learning. However, enrichment or gifted and talented programs may get dropped during the pandemic. If your child is finding school to be too easy, assure that s/he is academically challenged under the tutelage of an expert in gifted and talented education.
Parents of teens:
"Test Optional" sounds liberating, but students with SAT scores have an advantage for both admissions and financial aid. Our streamlined approach brings about significant score increases by focusing on your teen's strengths and weaknesses. Teens who are not submitting SAT scores must write standout application essays. We can help with essays, too!
Big news for everyone:
We're expanding our services! Two River Tutoring is combining with TWO RIVER COLLEGE GROUP which specializes in college funding strategies. We can help you with different forms and timing on the financial aid process. Additionally, we can show your family how to maximize both merit and financial aid. If your teen does not need financial aid for college, we'll show you impacts of certain assets according to specific colleges' processes.
More big news:
We just brought on a certified college admissions counselor! TWO RIVER COLLEGE GROUP is the only local one-stop shop for all your college application and admissions needs.
Contact us at:
Email – contact@tworivertutoring.com
732-666-4543
Website – www.tworivertutoring.com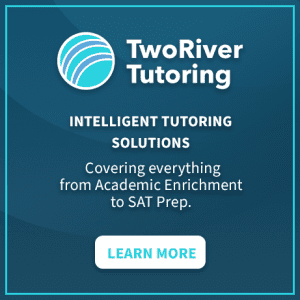 Sponsored by: Two River Tutoring