Brainstorm Tutoring and Arts in Manalapan is launching innovative on-site and virtual offerings to guide parents and students through the school-at-home experience for the upcoming school year. Through these new offerings, parents can choose from customized home-based instruction for their children with the company's all-star teaching team or consultations through which parents are coached on how to implement an effective family learning or microschool model. Whether parents are keeping their kids enrolled in their local public school or going the full homeschooling route, BrainStorm's suite of flexible and reasonably priced solutions are now available to equip families to enjoy their best school year yet.
Parents who would like additional instruction for their children will have access to customized teaching from BrainStorm instructors in any and all subjects for K-12, on-site or virtually. This instruction can be done one-on-one or with a child's microschool/pod. For parents who are planning to teach their children, resources, tools, and weekly parent coaching sessions are available to help successfully implement your school-at-home program. Pricing starts at $20/hr per student for instructional packages.
BrainStorm will help organize, motivate, and support children throughout the school-at-home experience. Traditional private weekly or intensive tutoring sessions are also available. Parents can request more information about these new offerings and enroll directly from this link https://www.sportikastorm.com/school-at-home/ or by calling Janine Weiss at 732-786-3799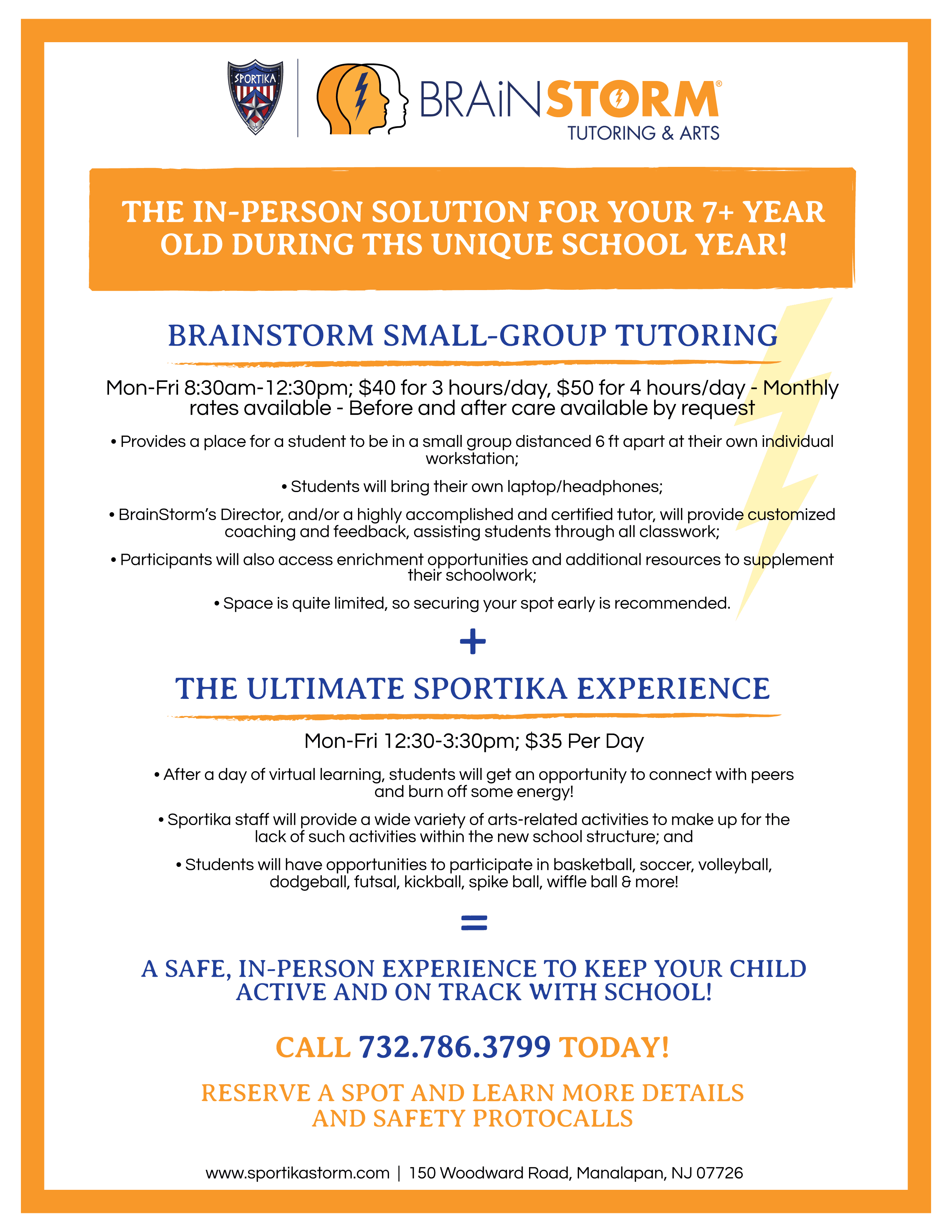 COLLEGE ADMISSIONS: MAKING THE DREAM A REALITY
Every high school student dreams of getting that college acceptance letter in the inbox–but it's no easy task.
From discovery (finding the right schools) to strategy (deciding when to apply where) and then essay, application, and interview prep, there is a LOT to do before and during senior year. It's daunting.
But never fear! BrainStorm's got your back.
Brainstorm has helped hundreds of students gain admission to their dream schools and earn millions of dollars in merit scholarships.
Their all-star college coaches will help demystify the college applications process–from the search for the "dream school" to the coveted acceptance letter.
Coaches will help by:
Assessing the candidate's probability of admission at various colleges
Taking inventory of the student's goals and desires and recommending good school matches
Creating strategies around application timing so as to maximize the probability of success
Coaching the student through the essay writing process
Assisting with applications and interview prep
Providing CONSTANT encouragement and support
TEST PREP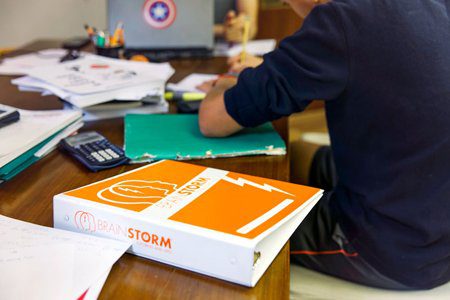 Test prep tutoring sessions can be held in our beautiful and inviting space in the Sportika facility for no-distraction studying.
Would you rather our tutors come to you? Sign up for test prep tutoring in the comfort and convenience of your own home!
Brainstorm offers the following test prep:
8th Grade HS Entrance Exam
SAT and the ACT
Not sure where to start with the SAT and the ACT? We are here to help! Let's Talk Tests is the pre-test prep course you are looking for.
Your student will spend one day learning about the SAT structure, one day learning about the ACT structure, and then will take a hybrid exam to establish which test is the better test for your student!
This mini-intensive camp will end with an hour-long private consultation with our test prep guru for parents and their students to discuss individual hybrid results and how to begin your test prep journey to achieve your goals.
Click here for more info on SAT and ACT classes.
Simulation Tests are also offered!
Practice tests are held at  the Sportika complex every Saturday at 9:00am. Social distancing is observed.
Results are provided within 48 hours. Scores, a breakdown of results, and test history are available online!
Click here for practice test information.
Contact Brainstorm Tutoring and Arts Today!
Sponsored By: