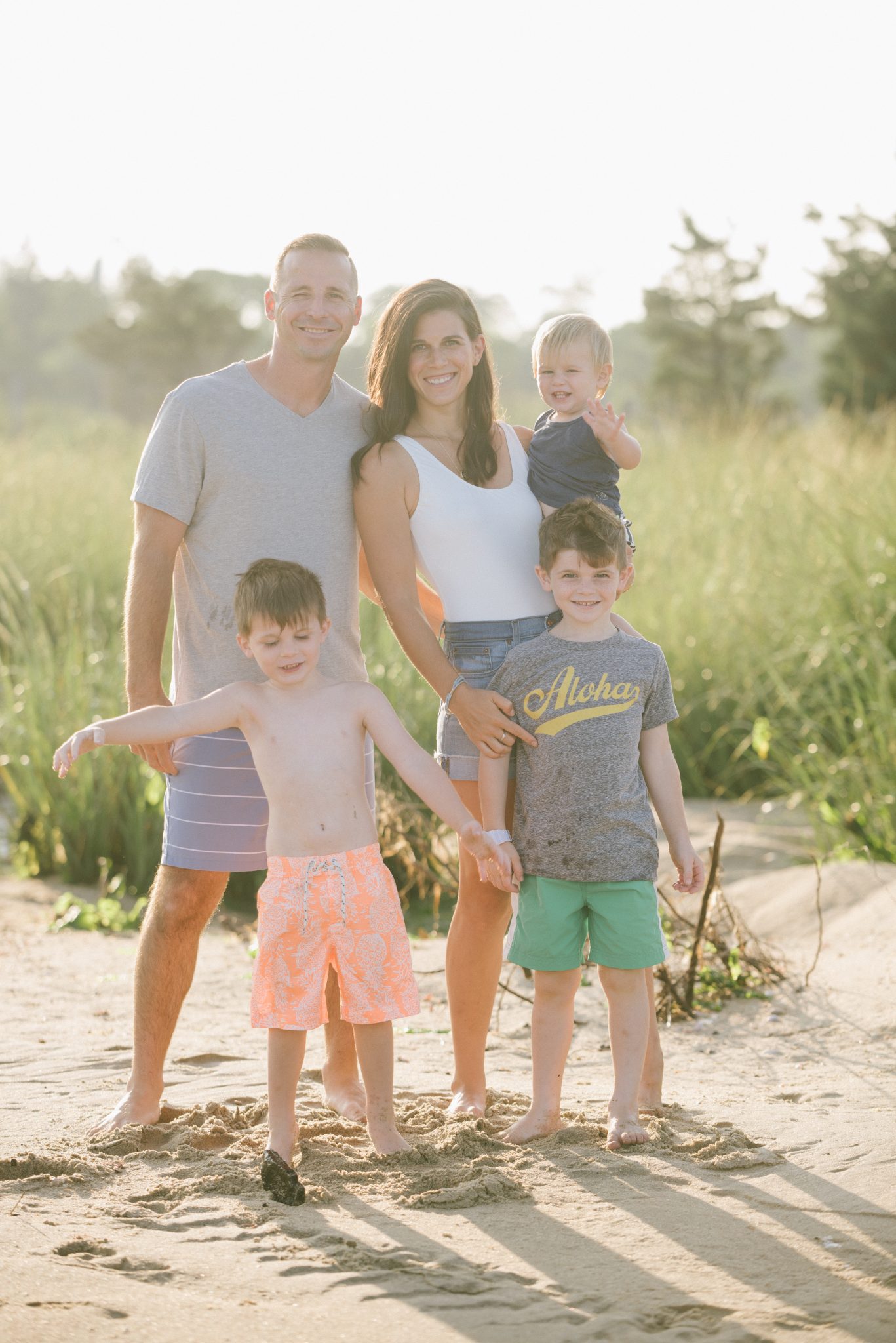 Meet Jen Woolston! This awesome momma is on the go!  She's a wife, mom of three gorgeous boys, and her businesses are literally on wheels! That's right!  The VW Photo Booth Bus and The Roving Bar are setting parties in Monmouth County apart! Read more below on this pretty lady, leaving her mark in her home and in our area!
Where are you from originally and how long have you lived in town?
I am from Cranford, New Jersey but upon graduating from college, we moved to Red Bank. We lived there for a year before purchasing our home in Shrewsbury, where we've lived for the past nine years!
Children and Age(s)?
I have 3 boys!  Dempsey is six and just started kindergarten, Leo is four and in preschool, and Henry is 16 months, so we are pretty much always together.
One thing people would be surprised to know about you…
Since I never worked in the field it may be surprising to know that I have a Master's Degree from Monmouth University in Professional Counseling, and originally had plans to become a school counselor. But, plans changed!
Anyone special you'd like to thank for helping you through parenthood?
My husband, Matt, is AMAZING. He gets up first with our boys every day to give me an extra hour of sleep.  That alone helps me through parenthood.  Life is busy and full, and we have so much going on, but he is the absolute best partner through all of the chaos.  I always tell him I'm so lucky he's on my team!  In addition, our parents are absolutely wonderful and give our kids and us their love, support, and time, which we are forever grateful for. Also, coffee. 
Favorite things to do with your kids?
My guys have lots (and lots) of energy, and we love to be outdoors.  We spend a ton of time in our own backyard, and our swing set could not be loved more.  We hit up all the local playgrounds, go to the beach, and explore Sandy Hook.  All summer long, we swim lots, and enjoy visiting the boardwalk, fairs, and fun towns like Asbury Park.  As Fall moves in, we'll go apple and pumpkin picking, which my boys thoroughly enjoy.  We also love to be home, and Dempsey and Leo will gladly tell you… we love to snuggle. Getting in bed with them at night and reading books before bedtime is absolutely one of my favorite things to do with my kids.
Are you involved in a business venture, a local organization, a creative endeavor, or in the corporate world? Please share!
I own VW Booth Bus and The Roving Bar.  VW Booth Bus is a 1971 vintage VW Bus that we transformed into a photo booth.  We call her Poppy, and she is mainly rented for weddings but we've also been a part of baby showers, bridal showers, birthday parties, conferences, block parties, school fundraisers, mom events… you name it!  She is also rented for photo shoots by local photographers.  It is truly a fun gig! We travel throughout New Jersey and beyond, attend exciting events, and meet new, interesting people. There's nothing better than hearing the laughter spill out of the bus while people are having a great time posing, being silly, and making memories with their friends and family. It's really awesome to capture those joyful moments in the photo booth while watching them unfold before our eyes. We feel so lucky that we get to create memorable moments for a living. Driving around in the bus is pretty fun, too – everyone smiles and waves at us! 
The Roving Bar is a fairly new endeavor for us. We named her Bluebell, and we had our first event in July!  It's a vintage Piaggio Ape from Italy that we turned into a mobile bar that serves beer and prosecco on tap!  Bluebell is off to a great start, and we have a busy Fall ahead of us.  
How has this community been instrumental in getting you to where you are now?
I really enjoy being a part of this community and truly appreciate how supportive and helpful so many local moms have been.  For preschool, we attend Learning Tree Preschool in Red Bank, and it's been such a joy to have my kids there.  We have formed wonderful relationships, and some of the moms that also live in Shrewsbury have been so great to us as we begin at school in town.  The community has been so good to us business-wise too, with kind words and referrals! We appreciate that so much. 
What is your favorite restaurant in Monmouth County?
B.K. (before kids) we used to go out to dinner a lot, even four or five times in one week!  I can barely remember those days now.  We definitely used to have favorites, but now it's such a treat to go out to dinner (kid free) that we're always excited to try something new!  We recently enjoyed ordering a ton of things off the menu at Albarino, which were all delicious!  We also like Beach Tavern, and hope to try 2ndJetty soon.  When we take the kids out to dinner, some of our favorite spots are Tommy's Tavern + Tap in Sea Bright, D'Jeet, and Fuji in Shrewsbury!
What is your favorite activity to do with your children in Monmouth County?
Honestly, anything that puts that sparkle in their eyes is my favorite activity to do with them.  Whether that is dance parties in our living room, watching them play soccer, going to My Gym together, going for a bike ride, you name it… I'm happy when they're happy.  Aren't we all?
Photography Provided by: Kate of Off The BEET Productions and Christina Lily Photography